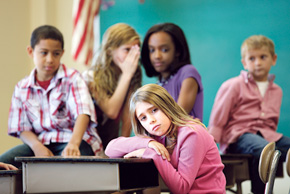 Many of us know a child who has stayed home from school because they were afraid of being bullied – but you may not realize it. An average of 160,000 students around the country stay home daily out of fear of being bullied each day but do not tell an adult. There are 5 universal reasons why this is the case…
Don't tattle. We have all been taught not to tattle, but it is vitally important that children learn the difference between tattling about unimportant things and telling someone when bullying is taking place.
Don't make it worse. Children may fear that things could escalate if the issue is addressed.
Won't be believed. Some children feel that they will not be listened to and that the issue will not be believed if they tell an adult or suggest it was self-inflicted.
Won't help. A majority of children believe that telling an adult does nothing to stop the bullying. Sadly, research tends to support this thought. If children learn that adults won't help, then they are not very likely to report the incidents.
Shame. When children are bullied, they often feel ashamed or embarrassed. These feelings alone can keep them from reporting issues, because they don't want people to know that they were being bullied.
The challenges that children face when not telling adults that they are being bullied can be dealt with by having a bully prevention program in place in every school, as well as parents and adults talking to children about bullying and the importance of telling someone in authority when it happens, and treated in a positive light.
If you would like to learn more about bullying statistics, contact Simple Acts of Care and Kindness at 866-459-7225 or visit www.simpleacts.org for additional information.