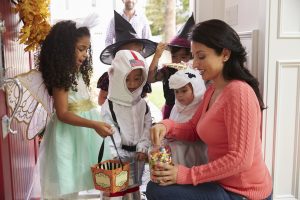 We've finally made it – it's Halloween, the day that we get to be anything we want for an entire day. Bonus? It involves free candy! Here's the problem – it isn't all that great for your teeth. But far be it for us to tell you not to enjoy the greatest holiday? Let's just leave you with this… These are the best and worst candies for your teeth. Pick and choose your favorites and have a safe Halloween:
Sugar-free candy and gum. Was there a surprise here? Sugar-free gum may be the best treat this Halloween season because it leaves no sticky residue that can cause cavities.
Chocolate. It's true! Chocolate, without sticky fillings, won't stick to your teeth and therefore is a much better option if you're craving something sweet.
Hard candies. Hard candy like lollipops or jawbreakers may not stick to your mouth, but they take a long time to dissolve, giving sugar plenty of time to attack your teeth.
Sour candies. We know it's a child favorite. But sour candy is bad for your teeth because it has a higher acidic content, which can break down tooth enamel. They may not require chewing but contain nothing but sugar and can lead to cavities.
Sticky candies. Taffy and candies filled with caramel, coconut, or nuts are the worst kinds of candy for teeth because they stick to everything inside of your mouth, including the grooves of your teeth. Because it's tough to get out of these crevices, sticky candies are the worst option for your sweet tooth.
If you would like to learn more about safe Halloween candy, contact Simple Acts of Care and Kindness at 866-459-7225 or visit www.simpleacts.org for additional information.