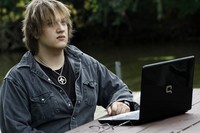 We've all heard the term before, especially online. "Hater" is a new word used to describe a bully. They use hurtful and negative comments to not only bring someone down but make themselves feel better about themselves. It can be online, in your personal life or affecting something or someone you love. If online, they are often anonymous. Keyboard warriors, if you will. But a bully can be virtually anyone. Like bullying, hater behavior is something that a person does – it is not who they are, and it can be changed.
But why do they do it? Haters often pick on people whom they perceive as being different from themselves. When inflicting these hurtful words, they understand that they are upsetting, can trigger feelings of anger, hurt, and confusion, and cause the person being criticized to question their self-worth and behavior.
Because it is often experienced online, it can be difficult to deal with a hater. Social media platforms are trying to monitor this, but it is almost an impossible task. In fact, there are a few ways you can avoid the haters in your everyday life. But there are some tips to consider if you've found you have a hater on your hands:
Ignore it and walk away without reacting or responding.
Block anyone online who are making negative or hateful comments on your posts or account, take screenshots and report them.
Be kind and respectful – killing them with kindness is a great way to not let it affect you emotionally.
Stick with supporters because there is strength in numbers.
Remind yourself that comments from a hater are a reflection of them, not you.
Understand criticism can be a sign of pain.
Acknowledge your feelings.
Keep being you.
If you would like to learn more about bullying prevention tips, contact Simple Acts of Care and Kindness at 866-459-7225 or visit www.simpleacts.org for additional information.