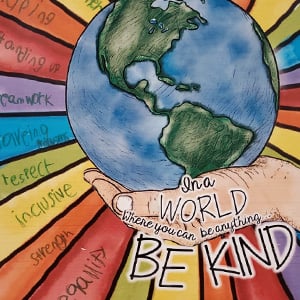 October is National Bullying Prevention Month, a time of year that we take pause to realize that bullying comes in many forms and is extremely hurtful, but we should all be willing to do something to prevent it from happening.
This year, Unity Day falls on October 20th and is one event that has been recognized in the U.S. since 2011 and is celebrated with individuals, schools, communities, and businesses wearing or sharing the color orange to unite for kindness, acceptance, and inclusion to prevent students being bullied. And what a great cause to get behind! After all the chaos that we've had to endure the past couple of years, it is important to look after each other in the most positive way possible.
I know what you may be thinking, why the color orange? Because October is an autumn month that includes Halloween, and Halloween's mascot is the pumpkin, orange is the perfect warm color to represent that inviting feeling we are trying to convey to others. Not only that, but orange is a bright color that is associated with safety and visibility, and that is exactly the point we are trying to make – we need to radiate empathy and warmth towards others each and every day.
In the past, there have been many examples of groups and businesses participating. In 2013, the iconic Green Giant statue in Blue Earth, MN wore an orange toga and lit up the night sky with an orange glow. TLC of the Discovery Channel made their logo orange for the day. Others have tied orange ribbons to a fence or around a tree, offered an orange item for sale with proceeds to the National Bullying Prevention Center, or created a unity mural.
If you would like to learn more about Unity Day, contact Simple Acts of Care and Kindness at 866-459-7225 or visit www.simpleacts.org for additional information.