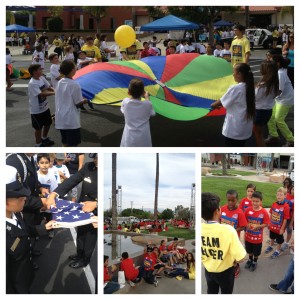 Simple Acts of Care and Kindness kicked off its annual World Kindness Youth Conference again this year at Crossroads Christian Church.  This two-day event gets bigger and better each year and the singers, speakers and sensitivity camp exhibits were amazing!
A huge "Thank you" to all of our 4th graders and teachers who participated in the event as well as all of our volunteers who make this event happen.  We couldn't do it without you.
The W.K.Y.C. was first held in 2004 and uses seminars and activities to help students learn the many areas of life into which care and kindness can be inserted. Seminars and discussion groups dealing with bullying and other relationship topics fill the morning. After lunch, students visit exhibitors who have come with messages about care and kindness for themselves (staying health with good food and physical activity), their family (anger management, safety, emergency procedures at home), their community (programs for the developmentally disabled, helping keep parks clean and green…), and their world (recycling, planting trees…).
Contact Simple Acts of Care and Kindness today at 866-459-7225 or visit our website for more information.
Simple Acts of Care and Kindness proudly serves Norco, Riverside, Lake Elsinore, San Bernardino, Eastvale and surrounding areas.