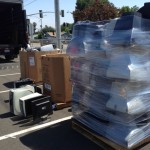 Thank you to everyone that came out to our e-Waste Event on Saturday.  With your help, we were able to fill 6 large palettes with your e-Waste!  It is with your support that we are able to continue our mission to eradicate Bullying from our schools and from the daily lives of our children!
But without your continued support we cannot make a difference. If you were unable to attend the event, you can STILL donate your items to help the children of Riverside County fight Bullying!  Bring your items Monday through Friday from 8:00am – 5:00 pm to:
840 E. Parkridge Ave, Suite 106, Corona, CA  92879
If you are a company with a large amount of items to donate, we can arrange a pickup at your location at no charge to you!  Please contact us to make this happen and give you more space in your office at 951-737-8558.
As follows are the items we can and cannot accept-
Approved Display eWaste including intact Computer Monitor, LCD, Plasma, CRT TV's, LED or Projection TV (functioning or non-functioning).
Approved Computer eWaste includes: functioning and/or non-functioning Computer Towers, Computer Servers, Tablet PC's, Netbooks and Switches.
Approved Breakage includes copiers, printers, fax machines, scanners, and other office/computer equipment not mentioned above.
UNAPPROVED eWaste includes but is not limited to florescent light bulbs, alkaline batteries, liquid waste, oils, paints. Etc.  We also do not accept Full Size Refrigerators, Washing Machines or Dryers.