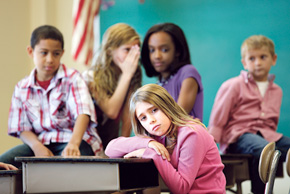 We are in a very scary time and the last thing we want is to perpetuate violence or bullying. But how? When it comes to students, it is important for us, as adults, to intervene immediately. When you do nothing, you send the message that bullying is acceptable. If you ignore or minimize the problem, victims will not believe that adults understand or care, or that they can help. If you don't intervene, children won't either.
Intervene. Observing children's actions, words, body language, and facial expressions will help you determine if bullying is occurring. Even if it's not, aggressive behaviors need to be stopped.
Separate and diffuse. Stand between or near the victim and the bully, separating them if necessary, so as to stop the bullying behaviors. For young children, consider removing them from the situation to a "time-out" area or room.
Respond firmly but appropriately. Remain calm but stern. Convey the seriousness of the situation. Announce that the bullying must stop. Describe the behavior you observed and why it is unacceptable.
Get help if needed. If the bully is using physical force, or there is more than one bully, you may need to find another adult to help keep children safe and protect yourself.
Don't impose immediate consequences. Allow yourself time to consider the incident and obtain any clarifying information – then decide the best course of action.
Don't leave it to the children. Bullying is different from an argument or conflict; it involves a power imbalance that requires adult intervention.
Give praise and show appreciation to helpful bystanders. Children who try to help the victim or stop the bully are key to bullying prevention.
Stay put. Remain in the area until you are sure the behavior has stopped.
If you would like to learn more about bullying prevention, contact Simple Acts of Care and Kindness at 866-459-7225 or visit www.simpleacts.org for additional information.