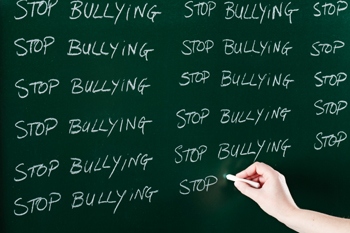 We all would like to live in a world where bullying doesn't exist, but these days it feels like it is getting worse than ever. Everywhere you look, someone is bullying someone for something and at times it feels like it's never going to end. And it needs to begin within ourselves. But where do we even begin to make the changes that will spread to our neighbors? Here are a few simple rules to keep in mind for you and your family. It all begins at home – let's teach our children how to be better.
Can you recognize a bully? Recognizing when bullying is taking place is an important step in finding solutions. By understanding the reason and roots of the problem, you and yours will begin to form an idea of how to spot bullying, like teasing, name-calling, shunning, and physical intimidation or assault.
When you see or hear about bullying taking place, remember that your reactions provide a framework for how the little ones involved will respond to and understand the situation. Children need to see adults being powerful and respectful in reacting to problems – stay calm, respectful, and persistent.
Positive peer to peer relationship skills help to put a stop to bullying. Teach children that they have the confidence and power to walk away from any situation, like stepping out of a line or changing seats.
Lastly, keep yourself informed as to what your child's school and school district have a mandatory district-wide anti-bullying policy and that they educate their staff on how to stop bullying and recognizing all forms and types of youth bullying.
If you would like to learn more about bully prevention, contact Simple Acts of Care and Kindness at 866-459-7225 or visit www.simpleacts.org for additional information.