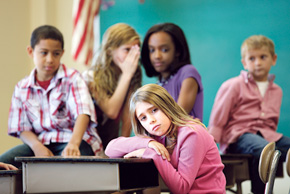 It's a scary thought, but bullied students are more likely to take a weapon to school, get involved in physical fights, and suffer from anxiety, depression and other health problems, both physical and mental. And research suggests that schools where students report a more severe bullying climate score worse on standardized assessments than schools with a better climate. This is why it is so important for everyone to prevent all types of bullying whenever possible. As a leader of a school, effectively addressing a bullying problem requires a culture change and it's your duty to take the helm when needed…
Assess the issues. It is necessary to know what the problem is before we try to solve it. Take the time to survey students, staff and parents to find out how much and what type of bullying is going, as well as where and when, to target prevention efforts.
Enforcing a schoolwide code of conduct. Rules teach the right and wrong ways to behave. Having these rules reinforce school values and clearly define unacceptable behavior and consequences. Empower bystanders, teachers and especially students, for help by training them to identify and respond to inappropriate behavior.
Increase adult supervision. Most bullying happens when adults are not present, so make sure an adult is visible and vigilant in hallways, stairwells, cafeterias and locker rooms, as well as on buses and the way to and from school for students who walk.
Conduct bullying prevention activities. School assemblies, communications campaigns or creative arts contests are all fun, spirit-building ways of highlighting school values to bring the community together and reinforce the message that bullying is wrong.
If you would like to learn more about bully prevention, contact Simple Acts of Care and Kindness at 866-459-7225 or visit www.simpleacts.org for additional information.