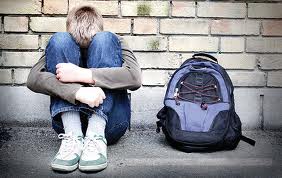 There's no doubt that bullying has become a problematic epidemic in the United States, but just how much of a problem has it become? Whether it be cyber bullying or bullying in real life, just about everyone has experienced some degree of bullying throughout their lifetime. Though some children and teens experience bullying at high rates and with more persistence than others, just about every child around the country is mostly likely going to have some type of connection to bullying.
Sadly, children and teens that are considered different than others are the most frequent targets of bullies. Youth with disabilities; gay, lesbian, bisexual and transgender (LGBT) students; students that are overweight; and students that are perceived as weak or insecure are the most likely targets of bullies. However, even if a child does have these risk factors, it doesn't mean they will get bullied.
The problem really stems from the fact that many bullied students will not speak up when it happens, for fear of retaliation, not being believed, etc. And sadly, we continue to hear how this bullying is affecting the students directly – at times having an incredibly tragic end. We, as adults, need to be able to make our children feel comfortable with speaking up without feeling scared to do so.
In addition, parents and teachers that are in close contact with children on the school's campus need to help put bullying to an end. It takes a village to raise a child – we all need to come together to support and accept one another to help reduces these alarming statistics as a community.
If you would like to learn more about bullying, contact Simple Acts of Care and Kindness at 866-459-7225 or visit www.simpleacts.org for additional information.