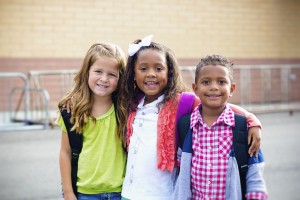 Now that we are smack-dab in the middle of back-to-school season, it is important that parents are sensitive to our children as they report the day's events. Keeping an eye on their daily attitudes will help catch any signs of depression or adverse effects from fights with friends or bullying.
It is a fact: one in 3 children in the United States are overweight or obese. Childhood obesity puts kids at risk for health problems that were once seen only in adults, like type 2 diabetes, high blood pressure, and heart disease. Sadly, children are cruel when it comes to physical differences, so unfortunately, a child suffering from obesity is likely to suffer from bullying. It is important to teach your child not to let words affect them, but it is also important as parents to prevent unhealthy lifestyle choices for our tiny humans. Thankfully, childhood obesity can be prevented. Communities, health professionals, and families can work together to create opportunities for kids to eat healthier and get more active.
How can National Childhood Obesity Awareness Month make a difference? We can all use this month to raise awareness about the obesity epidemic and show people how they can take steps toward a solution. Celebrate this health awareness month with these tips:
Make small changes as a family, like keeping fresh fruit or going on a family walk after dinner.
Motivate teachers and administrators to make schools a healthier environment for every child by providing healthy food options, daily physical activities and lessons about bully prevention.
If you would like to learn more about National Childhood Obesity Month, contact Simple Acts of Care and Kindness at 866-459-7225 or visit www.simpleacts.org for additional information.