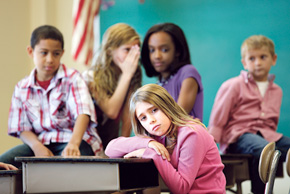 Beginning to foster a culture of caring, respect, and awareness starts with a few simple steps that make the biggest change:
1. Increase Your Own Awareness
Realizing when bullying is taking place is a necessary first step in finding solutions. By understanding the scope and roots of the problem, you will get an idea of how to start proactively working to address bullying, including teasing, name-calling, shunning, and physical intimidation or assault. Does your school, sports club, or youth group create a culture of respect, caring, and safety for everyone? Are children appropriately supervised during recess periods, lunch and before and after school?  Do educators have adequate support and training for addressing bullying?
2. Respond Forceful and Respectfully
If you see bullying take place or hear about it, remember that your reactions provide a context for how the kids involved will respond to and interpret the situation. Kids need to see adults being powerful and respectful in responding to problems. If parents or teachers get upset and overreact, kids are more likely to get upset and might even avoid telling adults about future problems. Staying calm, respectful, and persistent will make you more effective in talking to administrators, educators youth group leaders, or parents about their response to a bullying problem. Not everybody reacts in a helpful way when first approached so be prepared to persist.
3. Teach Your Kids Protective Skills
Positive peer relationship skills help to prevent and stop bullying. Tell your children that they have the confidence and power to walk away from any situation. Making safe choices like stepping out of a line or changing seats is sometimes all that is needed to make a bullying problem stop. Ensure that your child is persistent in getting help and is prepared to continue to ask for help even if an adult does not respond immediately.
4. Become Involved
Know what other parents and adults in your community are doing to stop bullying. Insist that your child's school has a mandatory district-wide anti-bullying policy and educates their staff on diffusing and recognizing all forms and types of youth bullying. Write to your county- and state-level officials telling them of the seriousness of bullying and demand they make it a top priority in their campaigns.
If you would like to learn more about bullying and what you can do to prevent it, contact Simple Acts of Care and Kindness at 866-459-7225 or visit www.simpleacts.org for additional information regarding bullying.