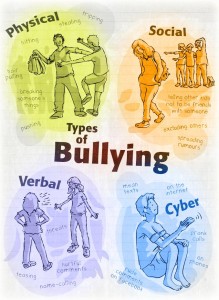 There are several types of bullying that both children and adults can experience, though some can be more obvious than others. Nevertheless, every form of bullying should be taken serious. While schools are trying to do the best they can do to deal with bullying, parents are still the key to teaching their children how to prevent and stop it altogether. To help identify different types of bullying, we here at Simple Acts of Care and Kindness have complied a list of the four most common types of bullying, which include the following:
Physical Bullying- This type of bullying involves hitting, kicking, pinching, pushing and tripping, or stealing or damaging personal property. Physical bullying can cause both short term and long term damage. Many children won't tell their parents when it occurs, so keep an eye out for possible warn signs such as unexplained bruises, cuts or scratches, missing or damaged clothes, or frequent complaints of stomach aches or headaches.
Verbal Bullying- Verbal bullying involves name calling, insults, teasing, threats or homophobic or racist remarks. While verbal bullying can start out harmless, it can mount to levels that start affecting the individual target. Some signs of verbal bullying include things such as being withdrawn, becoming moody or a change in appetite.
Social Bullying- Social bullying, referred to as overt bullying, is often hard to recognize and can be carried out behind the target back. It's often done to harm someone's social status and/or to cause humiliation. Signs of this type of bullying include shifting towards being alone, mood changes and becoming withdrawn from a group of friends. Examples of this type of social bullying include:
Lying and spreading rumors
Rudely mimicking someone
Playing nasty tricks to embarrass and humiliate
Negative facial or physical gestures
Encouraging others to exclude someone
Damaging someone's social acceptance or reputation
Cyber Bullying- This certain type of bullying can be overt and covert bullying behavior. The bully would use digital technologies, including hardware like computers and smartphones, and software such as social media, texts, websites and other online platforms. Cyber can happen both in public or private and sometimes only the target and the bully know it's occurring. Signs of cyber bulling may involve your child, after being on their phone or social media sites, more and becoming sad or anxious afterward. Cyber bullying includes:
Abusive or mean text messages or posts, images or videos
Purposely excluding others online
Posting nasty gossip or rumors online
Imitating people online or using their log-in to hurt them
If your child does approach you about being bullied or someone else being bullied, be sure to be supportive, praise them for the courage letting you know, and calmly gather information about the situation at hand. Always take action when it comes to bullying, especially if it becomes persistent or severe, by contacting your child's teacher or principal to help monitor the situation until it stops completely.
If you'd like to learn about how you can put an end to bullying, contact Simple Acts of Care and Kindness at 866-459-7225. Or visit www.simpleacts.org for additional information regarding the different types bullying.