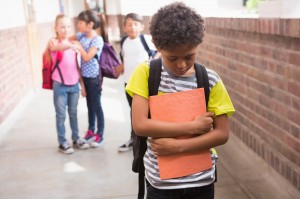 It's extremely important that you talk to your children about bullying. Explain to your child what bullying is and tell him or her that it is never okay to be a bully. Not only can bullying make a child's daily life very difficult, but it can also affect them down the road in life.
If your child is being bullied, there are a few things you as a parent can do about the situation, starting with telling him or her that it is not their fault. If your child approached you about the bullying go on to praise him or her and assure your child that you will help.  The following includes what action you should take if you child is being bullied:
Provide them with comfort and advice. Unfortunately, we can't put a stop to bullying as immediately as we would like, but we can provide our children with tips for avoiding such harassment. If your child is being cyber bullied, you can walk them through the steps of privacy settings or discuss staying off the internet for a while to avoid the bully. Teach your child how to stay calm when responding to the bully, as reacting may encourage the bully more. Some experts have said to remove the bully's incentives. For example, if your child's lunch money is being stolen, try packing them a lunch instead. There is no shame is taking the high road. You should remind your children that if your advice does happen to fail, they are in no way at fault or responsible for being bullied.
Contact your child's school. After talking with your child about the bullying situation, you should contact your child's school. Though your child may be able to keep things to themselves, adult intervention is a necessary step in bringing the bullying to an end. Be sure to discuss the situation with your child's teacher or principal, and make it clear that you want immediate efforts taken on their end. Also, make sure to familiarize yourself with your school's bullying code and any relevant state laws. If you feel that your child may potentially be in danger, you may also want to contact local legal authorities. Before you approach anyone, make sure that you know the bully's name and the specific instances when the bullying occurred.
You, as a parent, should listen calmly and carefully if your child does approach you about being bullied, meaning you shouldn't overreact. Yelling or crying may intimidate your child, and possibly stop them from communicating in the future. There's no doubt it's an emotional experience discovering that your child is being bullied, however your child's comfort should come first.
Take your child seriously and avoid laughing the situation off, or again, they may cut communication in the future. Your goal should be to show your child you care and understand the challenges of being bullied. Assure that you will stop the bully together as a team.
If you would like to learn more about bullying and what you can do to prevent it, contact Simple Acts of Care and Kindness at 866-459-7225. Or visit www.simpleacts.org for additional information regarding bullying.