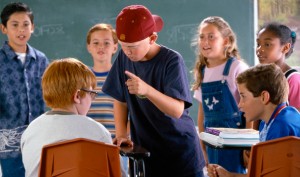 When you help someone who's being bullied, you may also help yourself. It can feel great to support someone in need and to stand up for what you believe! Many of us see someone being bullied at some point. It may be easier to just stand by, or even to laugh. But if you are brave and kind, you can be a real hero. Remember, the person being bullied may feel awful and all alone.
Bullying usually involves one or more people teasing, being violent towards, or harassing somebody on an ongoing basis. Bullying can happen in person and online and through cell phones.
What can you do if you see or know someone being bullied?
Stand up for the person. If it feels safe, defend the person being bullied. Bullies often care a lot about being popular and powerful. If you make the bullying seem uncool, the bully may stop.
Tell an adult. If you feel uncomfortable telling an adult, ask the adult to keep your comments private.
Encourage the bullied person to talk to an adult. Offer to go with them.
Offer support. Ask if the person is okay. Be friendly the next day. You can make a big difference just by showing you care.
Don't join in or watch bullying. Bullies love an audience. Walk away, and see if you can get others to leave, too. Of course, don't just abandon someone who is in real danger. Go get help.
Stop any rumors. If someone tells you gossip, don't pass it on to others. You wouldn't want someone spreading rumors about you(Source: girlshealth.gov).
If you see someone being bullied and you don't do anything to help them then it will just continue and may get worse. People who are being bullied can feel really distressed and it can have a serious impact on their life and health. In very serious cases bullying could lead to self harming, or even suicidal thoughts. Often other people at school don't realize the effect that bullying has when it goes on day in day out. If the bullying involves violence or threats, or if you think your classmate is in danger of getting hurt or harming herself, talk to an adult about it right away.
For more information call us at 866-459-7225 or visit our website at http://simpleacts.org