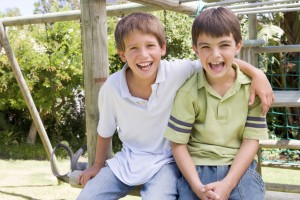 Going back to school can spark many emotions. Excitement for a new school year, wondering what the new school year will bring, seeing old friends and finding your way around a new class, schedule, or school. Along with that comes making new friends, a lot of us find it hard to make new friends and it can be a challenge to know 'what to do' to meet a new person. Below we've pulled 15 Tips on how to make new friends from http://www.thefriendshipblog.com. Read them below!
1) Smile
Smiles make you seem friendly and approachable. They make others feel special.
2) Make eye contact
When you look people in the eye, they feel like you're interested in them and what they are saying. People like being respected.
3) Say hello
Greet classmates you haven't talked to before—even if you're shy, even if the person seems intimidating, and especially if they're in different groups than you. Hello is the first step toward making a new friend.
4) Reach out
Make a goal to talk to at least one new person a week. Some of the best friends arise from unexpected places and people.
5) Forget stereotypes
People (including you) are more than the group with whom they hang; they are more than the labels others give them. Don't stereotype schoolmates by the groups they belong to and don't limit yourself to your current group (if you are part of one).
6) Be involved
Volunteer at school in or the community. Join clubs or sports that interest you. Extracurricular activities are opportunities to meet others who like the same things you do.
7) Be better
You don't have to be the same as you were last year. If you were shy, you can push yourself to be more talkative. If you were unfriendly, you can be nicer. The older you become, the more life experience you have, the better your social skills become. Use your maturity for your benefit.
8) Ask for advice
If you're having trouble making friends or keeping friends, turn to people you respect. Seek out a parent, older sibling, teacher or school counselor to talk about your difficulties. They can give you helpful suggestions to solve your difficulties.
9) Be a good friend
Treat others the way you want them to treat you. Even if someone treats you poorly, try not to use that as a reason to return the negativity.
10) Be a good friend to yourself
Don't talk more harshly to yourself than you would a friend. Nobody is perfect, even if they look that way on the outside. When you're unkind to yourself, it shows in how you present yourself to the world. You deserve the kindness you give others.
11) Be trustworthy
Keep your friends' secrets and confidences, no matter how tempting telling others might be. Gossiping may seem harmless at the time, but it causes hurt feelings and fights, and ends many friendships.
12) Be truthful
Lying might feel less scary, easier, or even better but more often than not, the truth eventually comes out and makes the situation much worse than if you initially told the truth.
13) Speak up
If you hear others talking negatively about a person or group, tell them you feel uncomfortable. If you see someone bring bullied or called names, stand up for the victim. Tell a teacher or someone in authority if the bullying doesn't stop or if it's a pattern. Keep telling until someone listens to you.
14) Apologize
If you hurt someone or mistakenly do something you shouldn't have, a sincere "I'm sorry," without excuses, is the first step to moving forward.
15) Relax
Nobody does friendship perfectly or knows exactly what to do when it comes to making and keeping friends. Do the best you can. Every new day is an opportunity to be better than you were yesterday.
Remember, always be yourself & enjoy the new school year!
For more information call us at 866-459-7225 or visit our website athttp://simpleacts.org