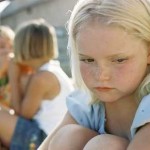 Kids are starting to heading back to school and one important situation to cover is "mean girl" bullying. Typically we think of it as a middle-school issue, but it's now happening at younger ages. Below we will talk about the problem of young mean girls and how parents can prepare their daughters for more difficult social situations they may face before the school year begins.
What does young mean girl bullying really look like in the first- or second-grade?
Typically it can be cruel words, the spreading of rumors, and systematic teasing. Some parents have said it even started in kindergarten. A study done at SUNY Buffalo in New York concluded that some girls understand these tactics as young as preschool.
Official the term for this is called "relational aggression." As girls get older and move into third grade, they get more sophisticated and cliques really begin to form. Additionally during this time, you see actions with intent to hurt. Although in kindergarten through second-grade girls, these actions may not be intend to hurt; the girls involved are trying establish their place on the social ladder and often don't realize that what they are doing is  actually causing pain to others.
One of the most difficult things about this for the younger girls involved is that it can be their best friend who is also their bully. These back and forth friendships can be destructive for the girl who doesn't know from one day to the next if her friend will play with her, or round up other girls and start a club where she is the only girl that is not allowed to join. Research has shown that the collection of the mean-girl experiences over time can significantly impact a girl's ability to learn.
See next weeks article on what adults can do to help.
Contact Simple Acts of Care and Kindness today at 866-459-7225 or visit our website for more information.
Contact Simple Acts of Care and Kindness proudly serves Norco, Riverside, Lake Elsinore, San Bernardino, Eastvale and surrounding areas.