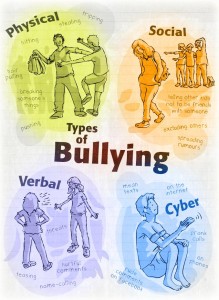 There are four main types of bullying:
Verbal bullying: When a person uses name calling, jokes about or offensive remarks about a persons religion, gender, ethnicity, appearance or socioeconomic status.
Social bullying or Alienation: This is done by spreading fake news or doing wrong propaganda about something, disturbing someones positive activities or fight with friends.  Often pointing out differences in others, excluding others from a group, and spreading rumors.
Physical bullying: In this type the victims body is physically hurt.  This can be any physical contact that hurts a person using physical means such as hitting, kicking, thrown objects or punching.
 Cyber bullying: Spreading rumors or insults using emails, blogs, websites or social networks like Facebook, Twitter, Tumblr, MySpace, etc.  This more than often includes sending pictures, messages or information using electronic media, computers and cell phones.
There are also two other types of bullying that are often forgotten about but are just as harmful.
Indirect Bullying: This is done by excluding others from a group, spreading lies, secrets, rumors or exaggerated stories about someone.
Intimidation Bullying:  These bullies use threats to frighten others.
For more information about how you can help call us at 866-459-7225 or visit our website at http://simpleacts.org