School Programs - KINDer Kids
Program Objectives:

KINDer Kids is a comprehensive school program that meets California State standards teaching requirements for character education. One of its basic features is having kids act out what it looks like to not be Kind Kid, then what it looks like to be kind in given situations.

Please select a category below to learn more:

Program Details
What You Get
Place An Order
Programs Details
Simple
Flexible
Time effective
Affordable
Adjustable/Adaptable
Effective
KINDer Kids™ focuses on social skills (attributes) that are of prime importance in social relationships...
Care/Kindness
Patience
Acceptance
Courtesy
Respect
Generosity
The activities involved in this program ensure that students hear, see, and (most importantly) feel the importance of these qualities. The KINDer Kids™ Program provides an excellent vehicle to teach and reinforce personal characteristics we all view as important in our effort to make this world a better place.

The program is intended to focus on each attribute for a block of time (3 - 6 weeks). A variety of activities have been designed to help teach these attributes.

What You Get
Banner:
For the front of the school.
(1 per school)
Classroom Poster and Focus Quality Words:
This poster is used throughout the year to display the attribute word.
(1 per classroom)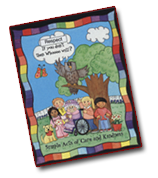 Teachers Guide:
A resource and instruction book for the teacher.
(1 per classroom)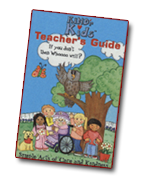 Thank You Coupons:
Each student is issued a set of Thank You Coupons to give others and recognize actions.
(1 sheet per student)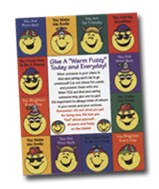 Recognition Stickers and "Look What I Can Do" Sticker Chart:
Each student is issued a sticker chart, which is used to reinforce actions related to the attribute.
(1 each per student)
The KINDer Kids™ CD:
With very singable songs the students can learn for each of the attributes.
(1 per classroom)

Treasure Chest:
Items in this grab bag are used as additional reinforcement. This bag includes items such as bumper stickers, bracelets, badges, stickers, pens, lanyards,etc.
(6 per student)

"What It Isn't/What It Is" Role-Playing and Discussion Cards:
These cards are used to help role-play various situations related to the attribute. Students role-play each situation at least two times
(1 per classroom)