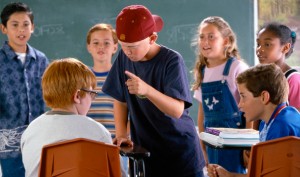 When it comes to bullies, there is a general personality type we can look for. But how does it begin? After all, babies aren't born bullies – it is a reaction to the environment they are surrounded by. Children who bully use their power to hurt others, and are often hot-tempered, inflexible, rebellious, and often lack empathy. Let's trace this behavior back to the beginning…
It may seem young, but in preschool years, bullies often use direct verbal bullying and physical power to control material objects or territory because they may not have the skills necessary to interact in socially appropriate ways.
In the elementary school years, bullies are more inclined to use threats and physical force to make victims do things that they do not want to do. During this time period, some children may begin to use indirect bullying to exclude peers from their social circle and activities.
In the middle and high school years, it is all about fitting in so bullies rely on direct verbal and physical bullying. Rumor-spreading and social exclusion through the use of the Internet or cell phone are also the latest trend. Boys rely on bullying for physical dominance, girls to enhance their social status.
Bullies fail to develop the social skills necessary for sharing, reciprocating, empathizing, and negotiating – key necessities to having healthy relationships, and as they mature into adulthood, children who have bullied others often show higher rates of:
Aggression
Antisocial behavior
Carrying weapons to school
Dropping out
Crime
Difficulty controlling their emotions
Depression
Suicides
If bullies can change these patterns of behavior before they become habitual and entrenched, will be less likely to suffer with these devastating and long-term effects.
If you would like to learn more about personality traits of bullies, contact Simple Acts of Care and Kindness at 866-459-7225 or visit www.simpleacts.org for additional information.