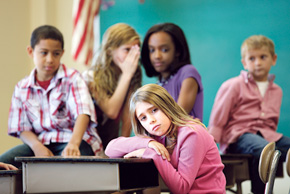 It seems like these days, everyone feels the need to express everything they think and feel at any given moment. Not only in a good way, but more often than not, in a mean one. This has caused a wave of bullying between students that is tough to ignore. From TV to movies, it seems like everywhere you look someone is talking about bullying. But after some thinking, you have to ask yourself – is everyone that has something mean to say a bully? Is it possible to just be mean?
We all can probably think of someone who has been mean to us. We can probably even think of someone that we've been mean to. It doesn't necessarily categorize anyone as a bully. There are rude people, and we need to learn how to deal with them accordingly. Bullying relies on unwanted, aggressive behavior that involves a real or perceived power imbalance which includes actions like making threats, spreading rumors, attacking someone physically or verbally, and excluding someone from a group on purpose.
No matter what the reason is, bullying can have long-term side effects and problems for the victim. Bullying is more than just being mean; it's hurtful and cruel. The brutal words and actions can create an impact on the heart and general behavior. If you notice that your child has begun to change their overall demeanor to a sadder, more closed off version of themselves, talk to them. They may be hesitant to open up but knowing you're there when they do will help tremendously.
If you would like to learn more about bullying, contact Simple Acts of Care and Kindness at 866-459-7225 or visit www.simpleacts.org for additional information.