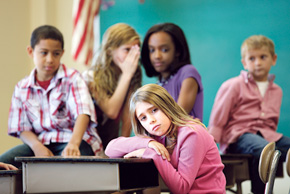 If you've ever seen the classic movie, Mean Girls, you know that girls don't really take feelings into consideration when they choose to prey on another girl. It's a dog eat dog world, especially in schools and sadly, girls are often worse than boys in that they use verbal abuse over physical bullying. Most Anti-bullying programs don't look at friendship issues, but for girls, that's where the aggression usually happens. Here are some tips that can help:
Start by building strong connections at home. You want to be understanding and a good listener. But that doesn't mean asking questions that can be leading or suggest that she has been wronged.
Validate the range of emotions she is experiencing are valid. Help your daughter understand that all emotions, both positive and negative, are normal.  Remind her that bad emotions don't make her a bad girl. By allowing her anger or irritation to play out will help her calm down quicker than if you just play down the situation.
Avoid problem-solving for her. You want your daughter to learn how to handle herself in these situations and in life. Be there for her and don't just tell her what to do. Helping her work through what is going on by asking her questions.
Try role play to work through the problem. Help your daughter hold her ground with her own strong but not aggressive statements. Sometimes, a better idea is to start developing new friendships and avoid that "friend."
If you would like to learn more about what you can do to prevent bullying, contact Simple Acts of Care and Kindness at 866-459-7225 or visit www.simpleacts.org for additional information.