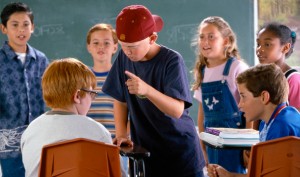 When we think about the typical bully, we think of the big, tough kid on the playground who pushes everyone around. Sure, but those aren't the only types of bullies. The cheerleader, the class clown, even the quiet kid can be a bully. Bullies can be any size, age, gender or grade.
So, what does it mean to be a bully? When someone uses words or actions to hurt someone who has a hard time defending themselves. Sometimes kids who bully think that it's cool, but what is cool about hurting someone? Name calling, tripping someone, laughing at them, leaving them out, ignoring them on purpose – how can hurting someone possibly be "no big deal?" If kids think about why they are bullying, they can then deal with those reasons and change their behavior. Not only will they feel better about themselves, but others will think so too.
Do you think you are a bully? Do you think you know someone who is? If you answer yes to any of these questions, you may want to rethink the way you treat others:
Do you hurt other kids on purpose?
Do you like to tease kids about how they look or act?
Are kids afraid of you?
Do you hit, threaten, or leave kids out?
Do you take or ruin other kids' stuff?
Do you enjoy it when you upset other kids?
Do you blame others for your problems?
Do you say mean things about others, either in person or on social media?
If you would like to learn more about bullying and what you can do to prevent it, contact Simple Acts of Care and Kindness at 866-459-7225 or visit www.simpleacts.org for additional information.