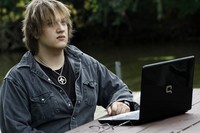 We recently come across this amazing e-guide to cyber-bullying. We all know bullying is becoming more and more common these days, and cyber-bullying is the worst. Not only because a cyber bully believes he/she is safe behind the screen, but because they cannot see how their words can affect their target.
But what is cyber-bullying exactly? What makes it different from typical playground teasing amongst children? But most importantly, what kinds of things can we do to prevent it from becoming progressively worse? All of this is covered for you in one e-guide. For more information, read more:
http://backgroundchecks.org/cyber-bullying-helping-the-bullied-stopping-the-bullies.html
Thank you, Jenny Holt, for such an eloquent way of explaining what has become such a hurtful way to bring someone down, instead of lifting them up.
If you would like to learn more about cyber-bullying and what you can do to prevent it, contact Simple Acts of Care and Kindness at 866-459-7225 or visit www.simpleacts.org for additional information.