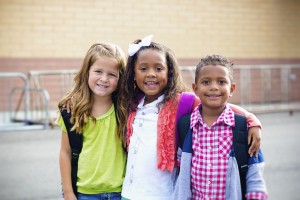 Nearly every single parent has probably said, "play nice, please" or "be kind to your bother".  And I'm sure that most parents would agree that they want to raise kind and caring children. But is being kind something that can be taught?
Yes, however, most of the teaching is by example.
It's our job to be great role models to better mold a kinder generation, as kindness isn't taught, but rather learned. Verbally telling someone to be a kind and caring can only go so far, and with children words typically go in one ear and out the other.
The following list includes four ways to encourage kindness in kids:
Walk the walk. Children understand the concept of kindness through daily interaction with their families. The way speak to others and your children even when tired are how they learn how to treat other people. So be sure to be the person you'd like you'd like your child to be.
Talk the talk. Encourage your child with kind language. It's been said that learning empathy and language go hand-in-hand. Kindness is essentially having the ability to take another person's perspective and then altering your language and actions accordingly. When talking to children of a young age, make sure to speak positively and know how to word things in such a way that don't demean another person.
Reward big acts of kindness. It's important to take notice of the "uncommon acts of kindness", such as when your child builds a lemonade stand for a good cause or they go out of their way to help another person. However, you shouldn't reward your children every day for everyday helpfulness, like taking out the trash or playing nice. That everyday kindness should be expected of them.
Take them outside their comfort zone to teach empathy. If children haven't learned compassion and generosity by the time they are 18, it's very unlikely that they'll learn kindness in a lecture hall. Young people should interact with people of all backgrounds, to learn how to "put the shoe on the other foot." Take them out of their comfort zone to encourage personal growth for empathy.
Kindness should never be taken for granted. Teach your children how others should be treated. As the saying goes "treat others how you want to be treated". If you would like to help spread kindness throughout your schools, contact Simple Acts of Care and Kindness (S.A.C.K.) at 866-459-7225 today. Or visit www.simpleacts.org to learn more about the S.A.C.K. foundation.