Bullying happens everywhere and no one type of person is immune. But, what does the word make you think of? For some people, it's that girl at school who always makes fun of them. For others, it's the biggest guy in the neighborhood who's always trying to beat them up or take their things. Sometimes "bully" means a whole group of kids, ganging up on someone else. No matter what situation or form it comes in, bullying can make you feel depressed, hurt, and alone. It can keep you from enjoying the activities and places that are part of your life.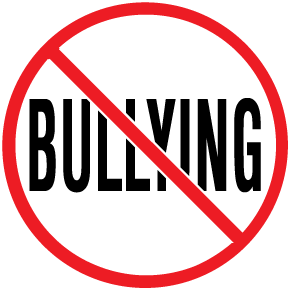 Let's start by looking at the different kinds of bullying:
Physical bullying means:
Hitting, kicking, or pushing someone…or even just threatening to do it
Stealing, hiding or ruining someone's things
Making someone do things he or she don't want to do
Verbal bullying means:
Name-calling
Teasing
Insulting
Relationship bullying means:
Refusing to talk to someone
Spreading lies or rumors about someone
Making someone do things he or she doesn't want to do(Source: http://pbskids.org)
What do all these things have in common? They're examples of ways one person can make another person feel hurt, afraid, or uncomfortable. When these are done to someone more than once, and usually over and over again for a long period of time, that's bullying.
But why should something that can make a person so miserable have to be part of growing up? The answer is, it doesn't!
So what can you do?
SPEAK UP: If you feel uncomfortable with the comments or actions of someone… tell someone! It is better to let a trusted adult know, than to let the problem continue.
Get familiar with

what bullying is

and

what it is not

.  If you recognize any of the descriptions, you should stay calm, stay respectful, and tell an adult as soon as possible.
If you feel like you are at risk of harming yourself or others

get help now

!
Someone is bullying me online or via text message
Remember, bullying does not only happen at school. It can happen anywhere, including through texting, the internet and social media.
Learn more about

cyber-bullying

and

how to respond

if it is happening to you.
Sometimes people bully because they are having problems in some way in their lives, and they need help with other difficult things that are happening to them. You can inspire your community to stand up to intolerance and create a diverse environment where everyone is safe, accepted and included.
For more information call us at 866-459-7225 or visit our website at http://simpleacts.org