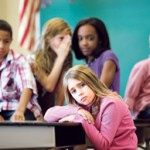 Do schools and teachers pick up on this happening?
Often parents and teachers dismiss the mean girl behavior as part of being a girl.  They often say, "It's what girls do," or "Girls will be girls." Often with younger elementary school girls, parents are not as tuned in to the situation to watch out for this type of behavior because it just seems that the girls are too young for it to be happening to them. But if you talk to teachers, they will tell you they see it on a daily basis.
Many Anti-bullying programs focus only on managing physical aggression, so the issue of mean girls fall outside the scope of the majority of programs. Boys often tend to be more physical, so when there is a fight on the playground with one child being aggressive towards another, there is cause for concern. The school does not want a child physically injured.
Most Anti-bullying programs don't look at friendship issues, but for girls, that's where the aggression usually happens.
What can you do when the bully is the girl's best friend?
If safety is issue and your child is in danger or endangering someone else, get professional help.
Preparing girls for what they might face with a new classroom full of girls is a great idea. Every year there are different  in the classroom. Here are some tips that can help:
Start by building strong connections at home. You want to be understanding and a good listener. But that doesn't mean asking questions that can be leading or suggest that she has been wronged.
Validate the range of emotions she is experiencing are valid. Help your daughter understand that all emotions, both positive and negative, are normal.  Remind her that bad emotions don't make her a bad girl. Try telling her things like, "I understand  how angry you are about what happened. It hurts our feelings when friends are mean." By allowing your her anger or irritation to play out will help her calm down quicker than if you just play down the situation.
Avoid problem-solving for her. You want your daughter to learn how to handle herself in these situations and in life. Be there for her and don't just tell her what to do. Helping her work through what is going on by asking her questions like, "I understand that your friends are telling everyone that you're poor and you shop at the thrift store. Why do you think she is she doing that?" Help her understand what is going on in the situation.
Try role play to work through the problem. Help by practicing with your daughter her responses to bullying but asking questions like, "Why are you worried about my clothes? If you really are my friend, then why would you be so worried about this?" Help your daughter hold her ground with her own strong but not aggressive statements. Or, if your family has had enough of the situation, a better idea is to start developing new friendships and avoid that "friend."
Work with teachers and school staff. At this young age, girls look up to their teachers and other adults at the school. If they see an exclusion situation happening, sometimes these adults can offer your daughter an opportunity to join him or her for lunch or a special activity to increase her "social value."
Contact Simple Acts of Care and Kindness today at 866-459-7225 or visit our website for more information.
Contact Simple Acts of Care and Kindness proudly serves Norco, Riverside, Lake Elsinore, San Bernardino, Eastvale and surrounding areas.