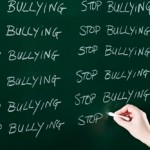 Despite all of the media attention that has been given to the mostly tragic consequences of bullying, you simply need to scan the comments sections in on-line articles regarding bullying to sadly see what percentage of adults stay in the dark while not really understanding the negative impact that bullying has on such a large amount of kids on a daily basis.
Below are some of the facts and statistics that we've found that make the most important impact on how adults and parents begin to understand bullying as an issue, not just in their community, but also throughout the entire country as well.
Bullying Facts and Statistics
160,000 children within the United States stay home each day due to bullying situations.
Eighty-three percent of bullying incidents receive no intervention and continue to happen.
Those who bully are four times as likely to participate in criminal behavior in adulthood and frequently develop self-destructive thoughts
There are four types of bullying: physical, verbal, cyber,  and social. Male bullying a lot of the time consists of verbal and physical abuse, whereas female bullying a lot of the time involves verbal abuse, cyber, and social bullying by spreading of rumors.
Only half of educators have received coaching on the way to handle bullying incidents.  Not teaching educators a way to handle bullying is like not training doctors to treat the flu!
Children are additional more likely to receive verbal assaults targeting their appearances and behaviors instead of race or spiritual beliefs.  In several cases, bullies felt that the victim was responsible for these behaviors or appearances.
A study by the National School Board Administration reported that 33.1% of the Middle and High School students that participated in the study agreed or strongly agreed that teachers and adults can stop bullying.  This implies that 2/3 of those students don't seem to be assured that they will get the help they need in bullying situations from their teachers or other adults in power.
In 2005, approximately 1 out of 10 internet users aged 10-17 had been the victim of cyber bullying and "on-line harassment".  Half of victims that were bullied off-line and on-line by one single individual reported being extremely troubled by the incidents.
"If there are no heroes to save you, Then you be the hero"
― Quoted from a Japanese Comic book
Contact Simple Acts of Care and Kindness today at 866-459-7225 or visit our website for more information.
Contact Simple Acts of Care and Kindness proudly serves Norco, Riverside, Lake Elsinore, San Bernardino, Eastvale and surrounding areas.