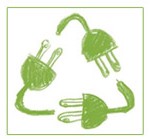 Come and help S.A.C.K. at their upcoming eWaste recycling event!  Bring your items on Saturday July 13, 2013 from 9:00 am to 2:00 pm to the following location:
Corona High School
1140 Tenth Street
Corona, CA  92882
By donating your computers or electronics to S.A.C.K. you help us encourage acts of kindness among young people and adults, and to generate and administer funds for the S.A.C.K. movement as well as for the annual World Kindness Youth Conference.
Approved Display eWaste including intact Computer Monitor, LCD, Plasma, CRT TV's, LED or Projection TV (functioning or non-functioning).
Approved Computer eWaste includes: functioning and/or non-functioning Computer Towers, Computer Servers, Tablet PC's, Netbooks and Switches.
Approved Breakage includes copiers, printers, fax machines, scanners, and other office/computer equipment not mentioned above.
UNAPPROVED eWaste includes but is not limited to florescent light bulbs, alkaline batteries, liquid waste, oils, paints. Etc.  We also do not accept Full Size Refrigerators, Washing Machines or Dryers.
If you have items to donate and cannot bring them to the special event date, please come by our specially designated office to drop the items off.
Up & Running Computer Solutions
840 E. Parkridge Avenue
Suite 106
Corona, CA  92879
(951) 737-8558
Monday through Friday from 8:00 – 5:00 to drop off any of the approved items listed above.